Communicating to your Cutter from SCAL for IOS and Android
One way to cut your design from the iPad and Android tablet versions of SCAL is to send it through the Desktop version of our software for Windows & Mac OSX.

The Tablet and Desktop versions must both be on the same local network.

From the Desktop version on Windows or Mac, choose Tablet Connection from the Cutter menu.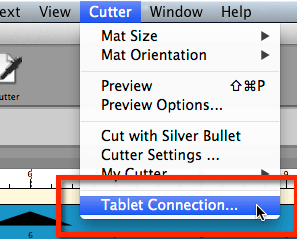 Then click the
Start Server
button to start the server so the Tablet app will be able to see it running.
From the Tablet app, when you choose to Cut, change the Connection to
Local Network
Then from the Port drop down menu, you should see it list the name of your computer that SCAL is running on from your Windows and Mac computer. If there is only one computer running the server, you can leave it on <Auto> or choose your computer from the list.
You should now be able to tap the Cut button and it should send the data over to the Windows or Mac computer and begin cutting.