Blade Offset Settings
The offset value determines how far past the actual corner it must move in order to drag the tip of the blade to the actual corner. In general, the default value in the software wil work fine, but if you notice corners not cutting correctly, you may need to adjust the Blade Offset value.

Below is an example of how a square will cut when the Blade offset is set too high, too low and just right.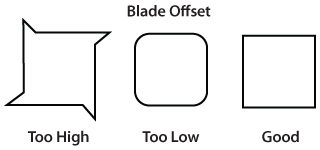 The Blade Offset value can be changed in the Cutter Settings window which can be accessed by choosing Cutter Settings from the Cutter menu or clicking the Settings button in the Cut window.